New Players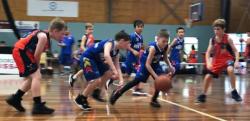 This is an introduction to briefly explain a few of the things you need to know prior to joining Runcorn Rockets.

Important Competition details:
Runcorn Rockets competes in the South West Metro Basketball Inc. junior competition also known as the South West Metro Pirates association. All competition administration including game scheduling, referees and location are managed by the South West Pirates association.
The junior competition caters for male and female players until they graduate or complete their high school studies. As long as they are still enrolled in high school and/or is U18 years of age they can compete inone of the Rockets teams.

The competition is played across two seasons and is year round.
The first 3 weeks of the season are Grading games. Players are put into teams and play games against the other clubs. The Grading games help the coaches determine the ability and level that each player should be playing. In this time, players can be changed from teams to suit their ability. Eg. If you child is a beginner, they will not be put into a Gold division team. Teams are finalised on the 3rd week before the 1st round of the official competition.
Season 1 – Terms 1 & 2
- Age groups are evens i.e. U8s, U10s, U12s, U14s, U16s,U18s or still in high school.
Note: Some of the female competitions consolidate 2 age groups as numbers may not warrant separate age groups e.g. girls U16s &
U18s are consolidated. Same with girls U12s and U14s this age group may be consolidated.
Season 2 – Terms 3 & 4
- Age groups are odds i.e. U9s, U11s, U13s, U15s, U17s orstill in high school.
Note: Some of the female competitions consolidate 2 age groups as numbers may not warrant separate age groups e.g. girls U15s & U17s are consolidated. Same with girls U11s and U13s this age group may be consolidated.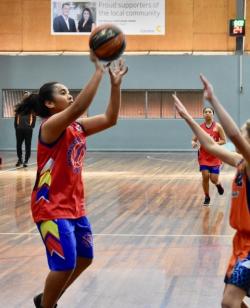 In most age groups there are different bands / skill based competition that are available.

GOLD – Division 1 – Highest level of competition within an age group which usually showcases the representative and high performing club,state, national and international representative players.
PURPLE – Division 2 – Highly skilled but not yet Elite or at a level to compete in the GOLD competition.
RED – Division 3 – New or learning the game.
The games are generally scheduled to start as per below. Games are scheduled to complete warmup, game and transition for the next game within a 50-minute time frame.

U14's and below are played on Saturdays with game start times scheduled any time from 8am through to 1pm.
U16's and above are played on Friday nights with game start times scheduled any time from 5pm through to 9pm.
- To know which age group you belong in, simply identify how old you/your child is turning in the current calendar year. If you are turning 11 this year you MUST play either in U12s and above.
- Games are played in the following locations:
Hibiscus Sports Complex – Klumpp Road, Mt Gravatt

Calamvale Community College – Hamish Street, Calamvale

Runcorn State High School – Hill Road, Runcorn
- Age groups U10's and above compete for medals at the end of each season and as such each player MUST play a minimum of 8 games to qualify to compete for medals should your team position themselves in the top 4 at the end of the regular season.
Each team has training once a week unless the courts are unavailable due to a school event.
Trainings are held between Mondays through to Fridays in preparation for the competition.
Training times are available on our Training page.
Playing singlets are supplied for every game and given back after each game. All players are required to have Rockets playing shorts and can be ordered by contacting - newregrockets@gmail.com. Cost of shorts $35.
There are also Basketball camps run in the school holidays that can help your child develop their skills.
Games are not played over the School break.
To register, you can click on the Player registration link on this page. There are more details about costs on our Registration Information page.
After Registration has been completed, please install the Team App. Follow prompts and sign up to Runcorn Rockets. This will give you a schedule of the Games times and updates of news and direct message contact between you and the coach.
You are most welcome to like our Facebook page and see all the photos coming through of whats happening at Rockets and the players playing their games.
Also remember to register with South West Metro (additional registration to above Rockets registration). South West Metro are our governing body and cover all players gameinsurance, Umpire training, arranging the competition with times and locations,the upkeep of the Electronic scoring etc.
South West fees are approximately $45 (U8), $82.50 (U10) and $128.50(U12 to U18) and is for a full 365 days and can be completed at www.piratesbasketball.net.au. Once on the South West web site click on new registration,you will need to make this payment prior to playing any games in U10 upwards
If you have any further queries, please do not hesitate to send an email to us at info@rocketsbasketball.com.au