Second week of trials
Hi everyone,
Second week of trials is finished so we should be getting a bit of an idea of where our teams should fit & what players are playing in what division. I believe we are moving up about 5 teams into different divisions so great work Coaches for developing your players.
We did have some issues this week with availability of venues and this is completely out of our control, I do appreciate everyone being patient with these occurrences.
This week I did send out an email about facemasks but on Friday night we gave out 42 facemasks that Rockets paid for. Had we not purchased these masks 42 children over 12 would not have been able to enter the stadium or play on Friday night. We need to adhere to the current COVID-19 guidelines.
This coming Friday night 30th July there are no games being played as NBL1 are playing Friday night at Hibiscus against Townsville.
To those of you who went to the Pirates game on Saturday night I hope you had an enjoyable time and no matter the score, the kids all seemed to have a great time. Our kids acted as the floor wipers at each end & when a player slid into one group of the kids, they all thought that was pretty funny..
There is a reasonable amount of things going on at the moment which I will tell you about later on.
The first exciting news for Rockets is that we have hired the entire Vmax theatre at Garden City and they will be screening the movie Space Jam on 8th August at 2 pm. Ticket prices for adults are $10 and children are $5.00. Normal ticket price is $24 for adults and $14 for children. We have also organised to give everyone a discounted drink and popcorn combo deal.
Link to purchase tickets are below.
https://www.trybooking.com/793357
All family members are welcome and you can register on our website or use the link above.. We will cross names off on the day to ensure that other people don't attend our session.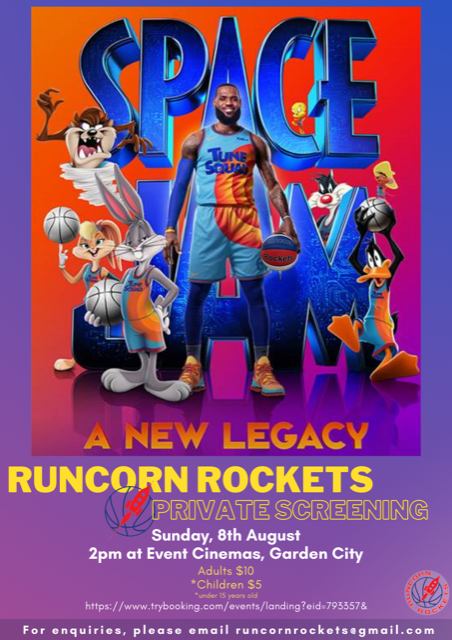 The theatre holds around 370 people so if you're interested please try to book as early as you can as we have over 500 registered members in the club without all the mums and dads and siblings who may also come along to the theatre.
I did ask about availability of a second session but I'm not sure if the theatre will be available plus this is a reasonably large expense for the club.
Don't miss out, book your tickets early it will be a great afternoon.
See you at the courts
Mark Smith
President
Runcorn Rockets Basketball Club
Sponsored by