Game Day
Please arrive at least 20 minutes early for your game, children will need to put on their uniform, Score sheet has to be populated with the children playing and the children will need to warm up.

Remember Coaches and managers are volunteers and the club greatly appreciates these people so please help if you can. Active participation by parents is encouraged so please, don't hesitate to offer your support to the coach, manager or become one yourself. The Club will provide assistance by organizing coaching courses or/and a mentor.
Active participation is also a necessity because every team must provide a scorer for each game. We encourage parents to rotate this role amongst themselves. If you've not done it before don't worry – the referee sets things up for you and will answer any questions and there is always help near by from a fellow Rockets person. It really does just involve pressing a few buttons and if anything enhances your enjoyment of the game. Your kids will also get a kick out of seeing you involved.
Competition draws are released by the South West Metro Basketball Association and are available on their Website - South Western Metro Basketball website - there is link to this web page from our home page.
Playing Singlets – are supplied by the club to each team and entrusted to the team Manager/Coach and are to be returned at the end of the season. Singlet's are only to be worn for games, not privately and each team is responsible for washing them after the game – normally parents take turns each week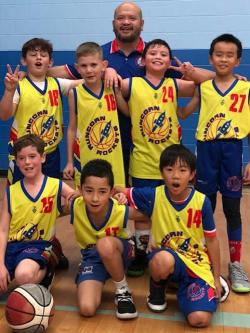 Play hard, have fun and respect the referees.